So you think you're a little busy this week with work, life, and this Book Blogger Appreciation Week
craziness
fun on top of everything else? Now imagine getting married in the middle of all this.
On Saturday.
That's the story with book blogger Kate from
I Just Wanna Sit Here and Read
!. I was in no condition to speak coherently to anyone in the few days before my wedding so I'm especially impressed that Kate found time to be my BBAW interview partner on top of everything else she has going on this week.
Without further ado, allow me to introduce you to Kate.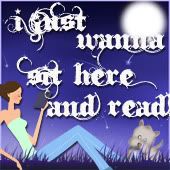 Congratulations on your upcoming marriage! I love hearing how people met their partners … how did the two of you meet?
Kate: We met in college. We were on the same dorm floor freshman year. We started off as friends and dated since then, six years strong!
My husband and I met in college and were friends before dating, too. I understand your fiance had a part in the name of your blog. Tell us about that.
Kate: My guy was constantly bugging me about reading and asking me why I read all the time and I really did not have an answer, I just loved to. There was a Modern Family episode where Phil stayed home on the first day of school and his wife sat down to read a book (she's a stay at home Mom). Phil kept bugging her and she said something to the effect of, "I just want to sit here and read." And my guy and I started cracking up because that was so us! So for about a week I kept saying it when he bugged me and then when it came time to start a blog I already had my name.
You have one of the most eye-catching headers that I've seen. Did you design it yourself?
Kate: I wish I was that talented! I had it designed for me by Twispired Blog Design. I highly recommend her!
And you've only been blogging since January of this year, right? What prompted you to start a book blog?
Kate: I started off as a staff member with the Open Book Society doing reviews, book clubs, and news. I had so much fun I wanted to try one for myself.
Were there any bloggers who were particularly helpful to you or who you looked to for inspiration?
Kate: The Story Siren really helped with her blog tips for new bloggers, and going to BEA definitely gave me a crash course in how to market my blog. Pam from Bookalicio.us was my mentor through a book blogger program and she helped me set up my blog and answered a lot of my beginner questions.
I agree, Kristi's blog is a great resource for new bloggers. And I've been reading Bookalicio.us for awhile now and met Pam at the Book Blogger Convention when we sat together for breakfast. Were you at the Book Blogger Convention, by any chance?
Kate: Yes. I'm planning to attend next May too. We should meet up this year if you decide to go!
Absolutely! No deciding needed on my end ... believe me, I'm already counting the days. Speaking of book events, I really enjoyed your post about the Mockingjay book launch party at Books of Wonder in New York. Have you been to other book events? Which ones were particularly memorable?
Kate: Besides BEA signings (which is madness and amazing at the same time) I have not been to many book events. BEA was like speed dating for fans and authors. You stood in line and once you said hi and got the book signed you could jump into another line if there was time. I definitely had a blast!
I'm going to try and get to at least one day of BEA next year, I think. Since you mentioned meeting authors, if you were able to invite five authors (living or dead) to your house for a dinner party, which ones would receive an invitation?
Kate: Jane Austen, Kelley Armstrong, James Patterson, Stephen King, and Sophie Kinsella.
And the menu?
Probably Chinese takeout, because then I could definitely die and go to heaven happy.
Of those dinner party authors, I'm not familiar with Kelley Armstrong.
She writes the Otherworld series, among others. I haven't read too many vampire tales, I am just coming into it now myself.
Another YA vampire series that I've particularly enjoyed is the Blue Bloods series by Melissa de la Cruz. It's a new "take" on vampires and follows vamps living the high life in Manhattan.
(Melissa mumbles under breath: I think I know a few folks who fit that category. Ahem...as I was saying ...)
We have a few challenges in common: Support Your Library and the YA Challenge. Of the challenges you've completed (and congrats on that, too!) is there one that you particularly enjoyed?
Kate: I liked the 100+ Book Challenge because that really pushed my reading up to a whole other level and also the Book Recommendation Challenge because I read some books I probably would have passed on if I didn't decide to do it.
How many book blogs are in your Google Reader (or whichever reader you use)?
Kate: I had to narrow it down earlier this year because it got a bit ridiculous each day, so I think I have around 50 right now that I check on each day.
Is there anything else you would like bloggers to know about you?
Kate: I would like to send my appreciation to all those who follow me and those who I have met so far on this journey. And I hope to gain more followers in the future to share my love of books with. Thanks!! :)
Thank you, Kate! I'm betting you'll have more followers (and more blogs to read than 50) as a result of BBAW. Thanks again for being my interview partner this week, and all the best to you and your husband as you start this next chapter of your life!
Stop by Kate's blog at
I Just Wanna Sit Here and Read!
to read
her interview with me
as well as to learn more about her favorite YA, adult paranormal/romance, chick-lit, and general fiction books.
copyright 2010, Melissa (Betty and Boo's Mommy, The Betty and Boo Chronicles) If you are reading this on a blog or website other than The Betty and Boo Chronicles or via a feedreader, this content has been stolen and used without permission.